Pixel Art Witchcrafter: Empire Legends
Witchcrafter: Empire Legends is a gripping platformer RPG with a strong emphasis on a dark fantasy story, fulfilled with vivid characters with own motives and experiences, set in the world full of elemental magic.
The game will tell a story of a young witchcrafter - Estel, who was found as a newborn in the forest by an old man, named Trismegistos. He raised him and taught everything about the magic and the world. They live in the wilderness between two empires - Emporia and Navia, in peace and desolation, blissfully unaware, but these are actually dire times.


When Estel raises, a strange prophetess starts to appear in his dreams and foretells a dark future of the empire, due to a fabled stone, which gives anyone ability to change the matter freely. That implies of course an unlimited power, but there is no certainty, whether it even exists. Although, it's a substance desired by everyone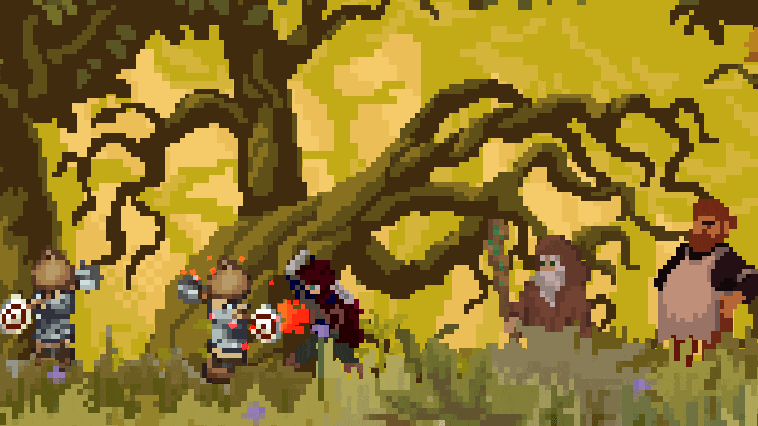 One of them is a mighty necromancer - Mordon, the emperor of the southern empire, Navia, who sacrificed his own people and signed a pact with a demon to have an invincible army of brown-skinned killers. He want to conquer the northern empire, because he believes that he could resurrect his loved ones, when he would be able to create Aqua Vita - a legendary drink made of quinta essentia acquired from the mythical stone, that folks believe to be in Emporia, in the castle of the emperor Ronar.
He suddenly abducts Trismegistos, as he might be a key to find the stone.
Estel, left alone, must find his patron, learn that this world is working different than described in the books and save the empire from the greed of Mordon.

Play alpha demo
[Please note: The game is still under development :) ] I've added a new, playable fragment of the game as a special submission to Fragment Jam 2019! This is the very beginning of the story with the uncompleted teaser of an Intro trailer, some initial dialogues, simple tutorial and a glimpse at the quest system! What is the most valuable for me is the player's feedback, so don't hesitate to leave comments or write to me!
Key features
(STORY) non-linear story with branching dialogues and quests
(MAGIC) improved, dynamic combat with new magic control (including aiming)
(WORLD) vivid world full of challenging platforming, smart enemies and thoughtful characters
I'm working also on:
non-linear story with branching dialogues and quests
cutscenes and a proper introduction with a tutorial
NPCs with own relations to the protagonist and each other
new enemies with different behavior
new locations with some platforming challenges
semi-open world structure (limited by a story)
alchemy, inventory, stats and more RPG features
Follow me
I'm still developing the game, so if you want to see a progress, give feedback or share your ideas - I'm open! Feel free to follow me here on itch.io,
Controls:
Key
Function
Comment
[A] [D] or arrows
movement
[space]
jump
LMB
attack
when the sword is hidden, Estel will unsheathe the sword
RMB
throw a magic missle
when holding a sword,
hold RMB for a charged attack
R
change an Element
(4 Elements available now)
Actual available spells:
| | | | |
| --- | --- | --- | --- |
| Spell | Name | Key | Function |
| | Force push | RMB | Push enemies away of you (ever seen a Jedi?) |
| | Air bomb | RMB (Hold) | Suddenly expanded air from the center of the bomb pushes enemies away |
| | Boulder dash | RMB | Throw a muddy boulder on an enemy |
| | Fireball | RMB | A classic spell that adepts shouldn't learn |
| | Dragon's breath | RMB (Hold) | Continuous stream of deadly flames |
| | Bubble | RMB | Be a bubble shooter and get your enemies wet |
| | Geyser | RMB (Hold) | Turbulently eject water from your hand in front of you (enemies will get wet too) |
Credits:
Game designed and created by Paweł Jarosz
Dialogs and story in cooperation with my brother, Łukasz
Art thanks to rvros, ansimuz and DGHZ, Buch
Sounds thanks to qubodup, Joshua Empyre, kickhat
A lot of support from Defold's community:
britzl, Pkeod, sergey.lerg, AGulev, rgrams, TheKing009, sven, selimanac and others <3
If you see a potential in this game - please follow me, leave feedback - I will continue working on it and soon there will be a new demo! :)

For now, you can also download a new, short story written by my brother introductory to the world of Witchcrafter! Check it out below:

Download
Click download now to get access to the following files:
Dusk of the humanity - a short story set in the world of Witchcrafter (.pdf)
89 kB